Butterflies (Age 2)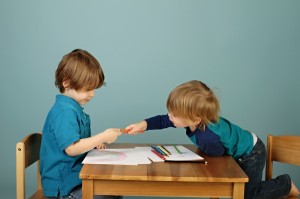 Philosophy- Our older New Cumberland toddler day care program has been established to provide quality experiences for children from 24 to 36 months of age. It is our goal to promote self-esteem, social-emotional well being, creativity, self-care skills, physical growth and basic learning concepts. We dedicate ourselves to meeting each child's individual developmental needs in a warm and loving child care environment.
Our Toddler Curriculum Includes:
Circle Time- This is usually the first activity of every day. Concepts include shapes, colors, numbers and alphabet. Matching games are used to establish these skills. Songs and finger plays are taught according to our weekly themes. Circle time aids in the expansion of beginning social skills such as sharing, manners, cooperation and respect.
Art/Creative Play- This is part of the day where children are encouraged through opportunities for imaginative role playing, availability of a variety of stimulating materials and frequent exposure to various art materials. Examples are painting, crayons, manipulative's (clay, play-dough) and tearing/ folding. Crafts do tend to get a bit messy; we will inform you when messy days will be, so your child can be dressed appropriately.
Games/Movement- Music is used in order to allow the children to imitate movements such as walking backwards, moving arms and galloping. Gross motor skills will also be exercised to develop better balance and coordination. In addition to indoor movement, the children visit their outside play yard twice daily (weather permitting). Also, they take walks through the Borough Park (located adjacent to our building).
Readiness- The toddlers are exposed to basic concepts. They participate in center activities that touch on skills such as counting, colors, body part recognition and name recognition. Vocabulary is worked on daily through picture cards as well as in conversation. Self-help skills are also introduced (hand-washing, dressing, eating with utensils, drinking from an open cup, etc.). Practical physical tasks such as potty-training and manipulating clothing are also addressed in our toddler program. Stickers, hand stamps and prizes are used to positively reinforce during the potty-training time. The teachers communicate closely with the parents during this important developmental stage.
Free Play- During this time the children are given several choices of materials to play with. The children learn to explore and investigate their surroundings. They enchance their fine motor skills by stacking blacks, pushing toys or taking toys apart.
Story Time – We read several books daily, most of which are centered around our weekly themes. Each child's vocabulary is expanded as objects are named and picture books are viewed.
Children are observed daily by their teachers for growth in all areas. Authentic assessments are completed in October, January and May to give both staff and parents a clear look at how their child is developing. Conferences are offered to discuss growth, areas of strength and areas needing more practice.